Podcast: Play in new window | Download
Subscribe: iTunes | Android | RSS
Finally we're done with our dungeon crawl, and to the town of Respite or Refuge or whatever. But things get a little… weird?
Starring: Andrew as Mizetto, Tony as the High King Seebo, Winston as Lenny Swifthands, Clark as John Johnson(?), and Chris as the DM (?????)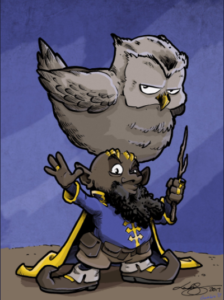 Check out this wonderful rendition of Seebo by Looking for Group's own Lar DeSouza and colored by the ever fabulous Winston!